Kerala- an intro | Geography | Backwaters | Cuisine | Kerala the land of ayurveda | Arts & crafts
Kerala Fact File | Districts of Kerala | Kerala in General | Map Of Kerala
Kerala God's Own Country
Kerala has attracted attention as one of the most preferred travel destinations in the world because of it's natural beauty. Kerala's population has a blend of almost all religions in the world, living in peace and harmony.
The land of green magic, is a narrow, fertile strip on the south-west coast of india, sandwiched between the Lakshadweep Sea and the Western Ghats. The landscape is dominated by rice fields, mango and cashewnut trees and, above all, coconut palms. The Western Ghats, with their dense tropical forests, misty peaks, extensive ridges and ravines, have sheltered kerala from mainland invaders and encouraged maritime contact with the ourside world. People have been sailing to kerala in search of spices, sandalwood and ivory for at least 2000 years. Kerala is a land of rivers and backwaters. Forty-four rivers (41 west-flowing and 3 east-flowing) criss-crossing kerala along with their countless tributaries, but these rivers are comparatively small and being entirely monsoon-fed, and will turn into rivulets in summer especially in the upper parts of kerala.
The people of kerala has migrated to different parts of the world than any other communities and are still very successfull. And that's what make us, malayalees, unique. Malayalees are famous for their traditional hospitality too. Let's offer our paradise - Kerala, to the rest of the world to explore !.
With the arabian sea on the west, the western ghats towering 500 - 2700m on the east and networked by forty four rivers, kerala enjoys unique geographic features that have made it one of the most sought after tourism destinations in asia. An equable climate. A long shorline with serene beaches. Tranquil stretches of emerald backwaters. Lush hill stations and exotic wildife. Waterfalls, sprawling plantations and paddy fields. Ayurvedic health holidays, enchanting art forms. Magical festivals. Historic and cultural monuments. An exotic cuisine… all of which offer you a unique experience, and what's more, every one of these charming destinations is only a two hours drive from the other. A singular advantage no other destination offers.


Kerala Fact File
---
Location :
Southwestern Tip of India
Area :
38,863 Sq. Km
Population :
29,011,237 (Census 91)
Capital :
Thiruvananthapuram (Trivandrum)
Language :
Malayalam, English Is Widely Spoken.
Religion :
Hinduism, Christianity, Islam
Time :
Gmt + 5:30
Currency :
Indian Rupee
Climate :
Tropical
Summer : February - May (24 - 33 Dg. C)
Monsoon : June - September(22 - 28 Dg. C)
Winter : October - January (22 - 32 Dg. C)
A hundred percent literate people. Worldclass health care system. India's lowest infant mortality and highest life expectancy rate. The highest physical quality of life in india. Peaceful and pristine, kerala is also india's cleanest state.
For administrative purposes, the state of kerala is divided into fourteen districts. Most of these districts offer all the tourism products typical of the state.
Districts of Kerala
Kerala in General
1..
Archeological Monuments
Kerala provides some of the archeological monuments, depicting ancient rock temples, paintings and variety of arts and crafts.
2..
Accommodation & Food
Luxury hotels, medium type hotels as well as budget hotels are available. Sadhya, the typical kerala feast served on a banana leaf, is a sumptous spread of rice and more than fourteen vegetable dishes - sambar, rasam, olan, kaalan, pachadi, kichadi, aviyal, thoran etc., Pickle, crisp pappadam and banana chips topped off with payasam, the deliciously sweet dessert cooked in milk.
3..
Climate
Climate is pleasant. No warm clothes are required except on the highranges during winter. Kerala has three major seasons, Summer (February - May) Winter (October -January) and the Monsoon (June - September).
4..
Customs and Manners
Courtesy and hospitality is super. The word "namaste" is used to say good morning, good evening, good bye, or any kind of salutation on arrival or departure.
5..
Dress
Dhoti and shirt
is the common dress for men and
Sari
for the women. Mundu and chatta among the christian women, and mundu, rawka and neryiath, is common among the hindu women. Pants among men and churidar among women are also common.
6..
Dances of Kerala
There are five types of dances in kerala i.e. tribal dances, folk dances, classical dances, neo classical dances and modern dances.
7..
Forests
Forests occupy 28% of the area and timber is an important industry.
8..
Fishing and Hiking
Fishing and hiking facilities are available at thekkady wild game sanctury, neyyar dam and other reserviors and dams.
9..
Fairs and Festivals of Kerala
There are colourful fairs and festivals attached to hindu temples, muslim mosques, and christian churches. There are also national and regional festivals, like onam, boat race etc.
10..
Geography
Kerala lies along a 590 km. Sun drenched, palm fringed, coast line of the arabian sea from cannanore to thukkalai, (near cape commerin) with sandy beaches on the west, the sahya mountains of the western ghats on the east, surrounded by tamil nadu on the south and east and karnataka on the north. Kerala has three distinct physiographical featurers, the highlands, the middle lands and the low lands with a total area of about 38863 sq, km. I.e. 1.04% of the total area of India.
11..
Handicrafts
Curios and souvenirs, with its ivory, wood and metal carvings and other handi crafts like jewellery, gold lace, bell metal ware, embroidery cloth, dolls, fancy articles of coconut shells etc are famous.
12..
Languages
Malyalam is the main language. Kannada in the northern districts and tamil in the eastern and southern districts are common. English and hindi are also in common use.
13..
Plantation Crops and Spices of Kerala
Kerala accounts for 10.60 lakhs tons of rice, 91 % of the rubber produced in india. Kerala is rich in the cultivation of cashewnuts, pepper, coconuts, cardamom, cinnamon, ginger, mace nut meg. Cloves, tamarind, turmeric etc. Pepper continues to be the king of kerala spices.
14..
Rivers and Backwaters
Kerala is a land of rivers and backwaters. 49 rivers, 46 west flowing and 3 east flowing, cut across kerala with its innunerable tributaries and branches. These rivers which are small and entirely monsoon fed, turn out to be rivulets in summer. The backwaters form a specially attractive and economically valuable feature of kerala. They include, lakes and ocean inlets which stretch irregularly all along. The biggest backwater is the vembanad lake which opens out into the arabian sea at cochin port. The other important back waters are Veli, Kadinakulam, Anjingo, Edava, Madayara, Paravoor, Asthamudi etc. Some of the most unforgetable sceneries is a back water journey from alleppey to the ancient port of quilon winding up the pampa river.
15..
Wild Life Game Sancturies
The periyar national park, eravikulam national park, silent valley national park, thattekad bird sanctuary, wayanad sanctuary, parambikulam sanctuary and a host of other smaller wild life reserves, make keral attractive to the tourists.
16..
Ayurveda
Ayurveda evolved around 600 bc in india. This system of medicine stresses on the prevention of body ailments in addition to curing them. Kerala's equable climate, natural abundance of forests (with a wealth of herbs and medicinal plants) and the cool monsoon season (june - november) are best suited for ayurveda's curative and restorative packages. Infact, today, kerala is the only state in india which practises this system of medicine with absolute dedication.
17..
Sports And Games
All indoor and outdoor games, and sports including hockey, cricket, football, volley ball, badminton, basket ball, tennis, ring tennis, table tennis, swimming, wrestling, boxing etc are popular. Golf courses are available at ernakulam, trivandrum, munnar and peerumedu.
18..
Geography
Kerala may be divided into three geographical regions: high lands, midlands and lowlands.
The Highlands : slope down from the Western ghats which rise to an average height of 900 m, with a number of peaks well over 1,800 m in height. This is the area of major plantations like tea, coffee, rubber, cardamom and other spices.
The Midlands : Lying between the mountains and the lowlands, is made up of undulating hills and valleys. This is an area of intensive cultivation. Cashew, coconut, areca nut, cassava (tapioca), banana, rice, gin get, pepper, sugarcane and vegetables of different varieties are grown in this area.
The Lowlands : or the coastal area, which is made up of the river deltas, backwaters and the shore of the arabian sea, is essentially a land of coconuts and rice. Fisheries and coir industry constitute the major industries of this area.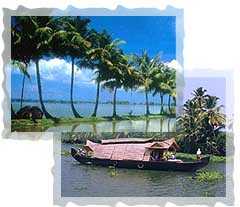 19..
Backwaters of Kerala
The backwaters are an attractive and economically valuable feature of Kerala. These include lakes and ocean in lets which stretch irregularly along the lengthy coastline of Kerala. The biggest among these
Backwaters
is the
Vembanad Lake
, with an area of 200 sq km, which opens out into the Arabian Sea at Cochin Port. The Periyar, Pamba, Manimala, Achenkovil, Meenachil and Moovattupuzha rivers drain into this lake. The other important backwaters are Veli, Kadhinamkulam, Anjengo (anju thengu), Edava, Nadayara, Paravoor. Ashtamudi (Quilon)
20..
Cuisine of Kerala
Sadya, the typical kerala feast served on a banana leaf, is a sumptous spread of rice and more than fourteen vegetable dishes -
sambar,
rasam
, olan, kaalan, pachadi, kichadi,
aviyal
,
thoran
etc. The culinary skills of the various communities of kerala has given us a cuisine of great variety. Most every dish prepared in kerala has coconut and spices added to it. Tender coconut water, 'the world's safest natural soft drink', is a refreshing nutritious thirst quencher.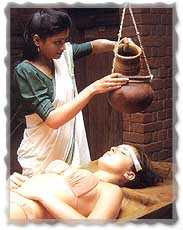 21..
Kerala the land of ayurveda
Kerala"s equable climate, natural abundance of forests (with a wealth of herbs and medicinal plants) and the cool monsoon season (june-november) Are best suited for
ayurveda"s
curative and restorative packages
. In fact, today,
kerala is the only state in india which practises this system of medicine with absolute dedication
22..
Arts & crafts of Kerala

Jeraka soecuakuses ub vekk netak, wood, cane, fibre and coconut shell craft. Kathakali models in wood, painted in the vibrant colours of the art form are popular souvenirs, as are rosewood elephants, miniature models of snake boats, baskets, trays and furniture made of cane, coconut shell cups, vases abd sooons. The Aranmula Kannadi, the unique metal mirror craft of kerala has no parallel in the world.