Jehangir Ratanji Dadabhoy Tata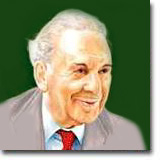 Jehangir Ratanji Dadabhoy Tata, JRD to the world and 'Jeh' to friends, was a doyen of Indian industry and a pioneering aviator. He headed one of the largest industrial empires in the country, Tata Sons, for over five decades. To begin with, he had joined the same empire as an unpaid apprentice!
A child of mixed parentage (his mother was French and his father was a Parsi), JRD was born in Paris on July 29, 1904. As a young man, he loved fast cars and would have competed for the Grand Prix. But his other love aviationed him to qualify as India's first pilot and to found Tata Airlines. The company was inaugurated on October 15, 1932, with JRD flying a frail Puss Moth from Karachi to Mumbai with a load of mail. Within a few years, the fledgling airline began carrying passengers as well, and before long, flew over international skies as Air-India.
The Tatas were the first industrial house to encourage sporting talent in India. Besides encouraging sportsmen, they were responsible in bringing into existence the Cricket Club of India. JRD breathed his last in Switzerland in 1993.
Indian Legends
|
Dr. A. P. J. Abdul Kalam
|
Mother Teresa
|
Viswanathan Anand
| J. R. D. Tata |
|
Dr. Verghese Kurien
|
I.M. Vijayan
|
Dhirubhai Ambani
|
Sachin Tendulkar
|
|
Kalpana Chawla
|
E. Sreedharan
|
Atal Bihari Vajpayee
|