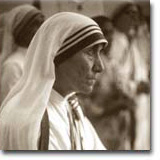 "The other day I dreamed that I was at the gates of heaven....And St. Peter said, 'Go back to Earth, there are no slums up here.'"
These words, once spoken by Mother Teresa, vividly recall the life of the late Roman Catholic nun and missionary known as "the Saint of the Gutters." For Mother Teresa, who devoted her life to the succor of the sick and the outcast, earthly sufferers were nothing less than Christ in "distressing disguise."
From an early age, the girl who would become Mother Teresa felt the call to help others. Born August 26, 1910, in Skopje (now in Macedonia), Agnes Gonxha Bojaxhiu was the daughter of Albanian parents -- a grocer and his wife. As a public school student she developed a special interest in overseas missions and, by age 12, realized her vocation was aiding the poor.
She was inspired to work in India by reports sent home from Jesuit missionaries in Bengal. And at 18, she left home to join a community of Irish nuns with a mission in Calcutta. Here, she took the name "Sister Teresa," after Saint Teresa of Lisieux, the patroness of missionaries. She spent 17 years teaching and being principal of St. Mary's high school in Calcutta. However, in 1946, her life changed forever.
After falling ill with suspected tuberculosis she was sent to the town of Darjeeling to recover.
"It was in the train I heard the call to give up all and follow him to the slums to serve him among the poorest of the poor," she remembered. Two years later, Pope Pius XII granted permission for her to leave her order.
After taking a medical training course to prepare for her new mission, she went into the slums of Calcutta to start a school for children. They called her "Mother Teresa."
Through the years, Mother Teresa's fame grew, as did the magnitude of her deeds ...
In 1950, the community she founded, the Missionaries of Charity, was officially recognized by the Archdiocese of Calcutta. The Vatican recognized the organization as a pontifical congregation the same year. What began as an order with 12 members has grown to more than 4,000 nuns running orphanages, AIDS hospices and other charity centers worldwide.
In 1952, she established a home for the dying poor -- the Nirmal Hriday (or "Pure Heart") Home for Dying Destitutes. There, homeless people -- uncared for and unacceptable at other institutions -- were washed, fed and allowed to die with dignity.
In 1979, she won the Nobel Peace Prize. Accepting the award in the name of the "unwanted, unloved and uncared for," Mother Teresa wore the same $1 white sari she had adopted when she founded her order. It was to identify herself with the poor.
When Pope Paul VI gave her a white Lincoln Continental, she auctioned the car, using the money to establish a leper colony in West Bengal.
In 1982, during the siege of Beirut, she convinced the Israeli army and Palestinian guerillas to stop shooting long enough for her to rescue 37 children trapped in a front-line hospital.
When the walls of Eastern Europe collapsed, she expanded her efforts to communist countries that had shunned her, embarking on dozens of projects.
Though Mother Teresa's good deeds were indisputable, her life was not without controversy. A 1994 British television documentary, "Hell's Angel: Mother Teresa of Calcutta," accused her of taking donations without questioning the sources. She also received some criticism for her strong views against abortion and divorce.
Mother Teresa was undeterred by criticism, stating, "No matter who says what, you should accept it with a smile and do your own work."
And she did ... returning to work time and again after serious health setbacks. Following a nearly fatal heart attack in 1990, Mother Teresa announced her intention to resign as head of her order. During a secret ballot of her sisters, she was re-elected almost unanimously. The only dissenting vote? Her own.
Mother Teresa died on September 5, 1997. She was given a state funeral with full military honours.
Highlights of Mother Teresa's life
1910: Agnes Gonxha Bojaxhiu born August 27 in Skopje, in what is now Macedonia, the youngest of three children of an Albanian builder.
1928: Becomes novitiate in Loretto order, which ran mission schools in India, and takes name Sister Teresa.
1929: Arrives in Calcutta to teach at St. Mary's High School.
1937: Takes final vows as a nun.
1946: While riding a train to the mountain town of Darjeeling to recover from suspected tuberculosis, she said she received a calling from God "to serve him among the poorest of the poor."
1947: Permitted to leave her order and moves to Calcutta's slums to set up her first school.
1950: Founds the order of Missionaries of Charity.
1952: Opens Nirmal Hriday, or "Pure Heart," a home for the dying, followed next year by her first orphanage.
1962: Wins her first prize for her humanitarian work: the Padma Shri award for distinguished service. Over the years, she uses the money from such prizes to found dozens of new homes.
1979: Wins Nobel Peace Prize.
1982: Persuades Israelis and Palestinians to stop shooting long enough to rescue 37 retarded children from a hospital in besieged Beirut.
1983: Has a heart attack while in Rome visiting Pope John Paul II.
1985: Awarded Medal of Freedom, the highest U.S. civilian award.
1989: Has a second and nearly fatal attack. Doctors implant a pacemaker.
1990: Announces her intention to resign, and a conclave of sisters is called to choose successor. In a secret ballot, Mother Teresa is re-elected with only one dissenting vote -- her own -- and withdraws request to step down.
1991: Suffers pneumonia in Tijuana, Mexico, leading to congestive heart failure, and is hospitalized in La Jolla, California.
1993: Breaks three ribs in fall in May in Rome; hospitalized for malaria in August in New Delhi; undergoes surgery to clear blocked blood vessel in Calcutta in September.
1996: November 16, receives honorary U.S. citizenship.
1996: Falls and breaks collarbone in April; suffers malarial fever and failure of the left heart ventricle in August; treated for a chest infection and recurring heart problems in September. Readmitted to hospital with chest pains and breathing problems November 22.
1997: March 13, steps down as head of her order.
1997: September 5, Mother Teresa died and she was given a state funeral with full military honours.
Indian Legends
|
Dr. A. P. J. Abdul Kalam
| Mother Teresa |
Viswanathan Anand
|
J. R. D. Tata
|
|
Dr. Verghese Kurien
|
I.M. Vijayan
|
Dhirubhai Ambani
|
Sachin Tendulkar
|
|
Kalpana Chawla
|
E. Sreedharan
|
Atal Bihari Vajpayee
|